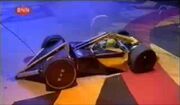 √3 (also referred to as V3 or V32, and pronounced Worteldriekwadraat in Dutch) was a clusterbot that competed in the second series of Dutch Robot Wars. The robot was designed to look like a Formula One racer when the three bots linked together. The three team members each wore large white helmets.
The machine was unique in that it was the only clusterbot seen in any series with more than two robots of similar size, requiring two thirds of them to be rendered immobile for the whole robot to be considered immobilised. It was relatively successful, winning two fights (via judges' decisions) and reaching the heat final, before losing to eventual champion PulverizeR.
Robot History
Edit
Unfortunately, √3 was placed against ODT-Zero in the first round, the heavyweight entry of Alexander Russchen, who was forced to abandon his heavyweight and drive his third of √3, leaving ODT-Zero in the hands of his team members. In the battle, Elevation immediately pressed the pit release button before all three parts of the clusterbot surrounded their opponent. The wedge of Elevation got underneath ODT-Zero, but did not flip it. ODT-Zero launched an attack and very nearly pushed S.O.Xbot into the pit, with the Elevation in turn pushing ODT-Zero onto the edge of the pit of oblivion. All three robots teamed up to push ODT-Zero down, but they all failed. Eventually ODT-Zero was pushed into Shunt's CPZ and it suffered a few axe blows. √3 qualified for the next round on a judges decision.
Pika 3 was √3's opponent in round 2, and it used its power to push Elevation into a CPZ. After S.O.Xbot was pushed into a CPZ, Matilda's flywheel flipped it out of the arena, chipping a camera lens in the process. The other two fought on, ramming Pika 3 against the arena side wall, before Pika got stuck under an angle grinder, and its front spike wedge was damaged when the Refbot freed it. √3 surprisingly won the resulting judges decision.
The clusterbot's run ended in the heat final, though. After attacking PulverizeR in a similar manner to √3's first round battle, PulverizeR flipped Elevation with its flywheel, before self-righting it. The real turning point however, was when S.O.Xbot lost a wheel after a PulverizeR attack. Elevation was tossed again, and was unable to self right. Combined with the loss of a wheel on S.O.Xbot, at least 50% of √3 was immobilised, eliminating the robot overall.
Series
Event
Round
Opponent(s)
Results
Dutch Robot Wars

Series 2

Heat E
Eliminator
ODT-Zero
Won
Semi-Final
Pika 3
Won
Final
PulverizeR
Lost
Wins/Losses
Edit