Andy Roid was a robot that competed in the Lightweight category at the first two US Robot Wars in 1994 and 1995. It was designed to resemble a young boy on a Batman tricycle. It had a makeshift flailing mace made from an empty fizzy pop can and a roll of cotton at the rear as its weapon. Its name was a pun on Android. It won the Strangest Robot Award in 1994 and reached the Final that same year where it lost to Julie-Bot. It returned in 1995 with red wheels instead of black and the flailing mace replaced with three ramming spikes where it once again lost to the eventual Champion, this time to Test Toaster 1.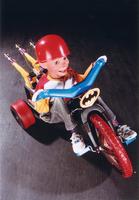 Series
Event
Opponent(s)
Results
US Robot Wars 1994
Lightweight

Division

Satoru Special
Won
Spiny Norman
Won
Julie-Bot
Lost
US Robot Wars 1995
Lightweight

Division

Piranha Bot
Won
Test Toaster 1
Lost
Wins/Losses
Edit
Ad blocker interference detected!
Wikia is a free-to-use site that makes money from advertising. We have a modified experience for viewers using ad blockers

Wikia is not accessible if you've made further modifications. Remove the custom ad blocker rule(s) and the page will load as expected.