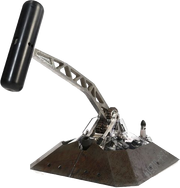 Basher is a heavyweight robot built by Team Hurtz, which took part in the unaired pilot episode of the 2016 series of Robot Wars. Team Hurtz competed in the main competition with Terrorhurtz.
Basher is in fact beta from Battlebots, renamed for legal reasons.
Robot History
Edit
Although Basher did not participate in the main series of Robot Wars in 2016, Team Hurtz were invited to attend filming of the pilot episode on March 1st, giving them the opportunity to have a head-to-head battle in front of a live audience as part of a camera test.
Basher first entered a four-way melee against Ka-Pow!, Tanto, and Turbulence. Basher was aggressive in its performance, where at the same time, Tanto became immobilised, knocking out its safety link by driving over Ka-Pow! Basher capitalised, and pitted the defeated Tanto, but in the process, overbalanced, and fell into the pit itself, eliminating both robots from the competition.
Wins/Losses
Edit
Ad blocker interference detected!
Wikia is a free-to-use site that makes money from advertising. We have a modified experience for viewers using ad blockers

Wikia is not accessible if you've made further modifications. Remove the custom ad blocker rule(s) and the page will load as expected.