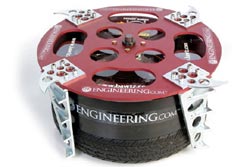 Bumper Bawt was a middleweight robot from Canada that competed in Seasons 2.0 and 3.0 of BattleBots. It was originally a ramming tire armed with a pneumatic pushing plate, but it was revised for Season 3.0, adding an overhead spinning shell. However, Bumper Bawt lost both of its battles and thus never appeared on television.
Bumper Bawt also appeared on Open Mike with Mike Bullard under the name Bullard Bot.
Robot History
Edit
Season 2.0
Edit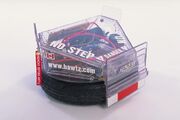 Bumper Bawt's only match of the season was against Kegger. This fight was over in about 10 seconds. The robots moved towards each other, Bumper Bawt reaching the middle of the arena as Kegger lined up a shot, but Bumper Bawt drove directly over the arena hell-raisers, which popped up suddenly and flipped it over. Kegger then took the opportunity to hammer Bumper Bawt a few times as it was counted out. Kegger won by KO at 1:06 and Bumper Bawt was eliminated from the tournament.
Season 3.0
Edit
Bumper Bawt's only match in Season 3.0 was against T-Minus. After multiple flips from T-Minus, Bumper Bawt was eventually flipped on its side and was counted out. T-Minus won by KO at 1:32 and Bumper Bawt was eliminated from the tournament again.
Wins/Losses
Edit
Ad blocker interference detected!
Wikia is a free-to-use site that makes money from advertising. We have a modified experience for viewers using ad blockers

Wikia is not accessible if you've made further modifications. Remove the custom ad blocker rule(s) and the page will load as expected.