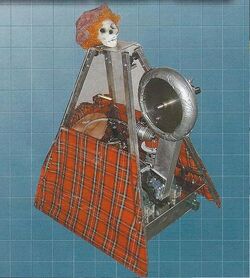 Fighting Torque was the name given to two separate robots entered by Team Torque in Extreme Series 1. The original design was a pyramid-shaped robot wearing a kilt with a spinning disc on a crushing arm as its weapon. It competed in the Mayhem but was soundly defeated by Atomic 2.
However, Atomic's withdrawal allowed Fighting Torque to re-enter the competition, but the team entered its Series 5 robot, Hippobotamus in the Annihilator.
Robot History
Edit
Fighting Torque entered a Mayhem battle in the first series of Extreme. It was drawn against Atomic 2 and Mousetrap 2. Atomic dominated the fight, it immediately flipped Mousetrap a few times and then flipped Fighting Torque. Atomic flipped both robots around the arena repeatedly. Mousetrap couldn't self-right and so was counted out, whilst Fighting Torque still tried to attack Atomic. Fighting Torque was flipped again, counted out and placed on the arena floor flipper. Fighting Torque was sprung up in the air and landed on its wheels, but was flipped again and left to burn on the flame pit.
Series
Event
Round
Opponent(s)
Results
Robot Wars

Extreme 1

Mayhem
Qualifier
Atomic,

Mousetrap

Lost
Wins/Losses
Edit
Ad blocker interference detected!
Wikia is a free-to-use site that makes money from advertising. We have a modified experience for viewers using ad blockers

Wikia is not accessible if you've made further modifications. Remove the custom ad blocker rule(s) and the page will load as expected.