Not to be confused with the live event heavyweight Gripper (Heavyweight)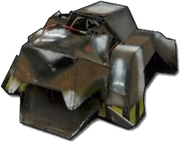 Gripper was first built in 2005 by John Findlay from Roaming Robots. It was built as their event's house robot for the featherweight class. Gripper was designed to resemble Robot Wars House robot Growler as it had the look to match and also the crushing jaws for grabbing featherweights, picking them up and dumping them in the pit. In 2011, after having acquired Matilda to be the house robot for featherweight battles, John Findlay decided to sell Gripper and it was sold to Michael Sandford of Team ENGIMA who is trying to get it up and running again.
Ad blocker interference detected!
Wikia is a free-to-use site that makes money from advertising. We have a modified experience for viewers using ad blockers

Wikia is not accessible if you've made further modifications. Remove the custom ad blocker rule(s) and the page will load as expected.