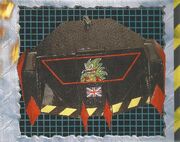 Humphrey was a low box wedge shaped robot that competed in Series 4 of Robot Wars. It featured a lifting arm, made from a carjack and capable of lifting a Ford Escort, with ramming spikes as its weapons and incorporated wheelbarrow wheels, gearbox sprockets from a lawnmower (giving it a speed of 6 mph) and even an old table leg in its construction. Humphrey performed poorly in its only battle in the UK Championship against The Steel Avenger and Wild Thing, with Jonathan Pearce telling the team not to return without a decent robot.
The team did so in Extreme 2 Tag Team with Nasty Humphrey.
Robot History
Edit
Humphrey was in Heat M of the Fourth Wars. In the first round, Humphrey was pitted up against the 11th seed Wild Thing and The Steel Avenger. Humphrey stayed out of the main bulk of the action at first as Wild Thing constantly attacked The Steel Avenger, then putting it into the CPZ, Matilda nearly flipped Steel Avenger out with her tusks, but Humphrey then suffered control problems, it was slowly going round in circles until it finally grinded to a halt. This allowed Seargent Bash, Dead Metal and Sir Killalot to attack it and place it on the floor flipper, it was flipped onto its back by the floor flipper and eliminated.
Debenham Robot Rumble 2000
Edit
Humphrey fought in the Debenham Robot Rumble 2000 charity event. In its first battle it fought Chaos 2. Chaos 2 easily won the fight, flipping Humphrey about. It then fought Rambot and managed to win after Rambot wedged itself in the arena. Humphrey didn't score enough points and didn't progress.
Series
Event
Round
Opponent(s)
Results
UK Robot Wars Series 4
Heat M
Eliminator
(11) Wild Thing

The Steel Avenger

Eliminated
Wins/Losses
Edit
Ad blocker interference detected!
Wikia is a free-to-use site that makes money from advertising. We have a modified experience for viewers using ad blockers

Wikia is not accessible if you've made further modifications. Remove the custom ad blocker rule(s) and the page will load as expected.