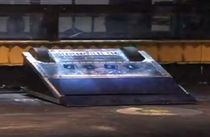 Jack in the Bot was a heavyweight robot that competed at the NPC Charity Open in 2004. It was armed with no active weapon but its inverted wedge. It didn't do well in the competition, winning only one match and losing two overall.
Robot History
Edit
2004 NPC Charity Open
Edit
Jack in the Bot's first ever match at the NPC Charity Open was against Warrior. In the beginning of the match, Warrior went straight at Jack in the Bot, who was only going in circles. As Jack in the Bot was having driving issues, Warrior pushed it to the center of the arena. After this, Jack in the Bot was no longer moving in circles. Warrior then pushed Jack in the Bot against the arena wall and this immobilized Jack in the Bot. Warrior backed up and went straight at the immobile Jack in the Bot again. Jack in the Bot was being counted out and Warrior won by KO. This loss put Jack in the Bot to the loser's bracket, where it faced Death-Maul after receiving a bye.
Jack in the Bot won by KO and advanced to the next round, where it faced Final Verdict. Final Verdict won by KO and Jack in the Bot was eliminated from the tournament.
Wins/Losses
Edit
Ad blocker interference detected!
Wikia is a free-to-use site that makes money from advertising. We have a modified experience for viewers using ad blockers

Wikia is not accessible if you've made further modifications. Remove the custom ad blocker rule(s) and the page will load as expected.