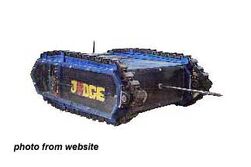 Judge Mech was an invertible tracked robot that attempted to qualify for Series 3 and Series 4 of Robot Wars. It failed to qualify for Series 3 after a disappointing run in the assault course, and in Series 4 after losing its qualifier battle to Arnold, Arnold Terminegger, where it was lifted several times after its weapon failed to work.
Judge Mech was designed and built by Jon Witte and Pete Birch, who had previously entered Series 2 with Pain, which withdrew after breaking down twice before its Gauntlet run. After a long absence from Robot Wars, the team entered Series 6 with Spam, which reached the second round.
Robot History
Edit
After failing to qualify for Series 4, Judge Mech appeared at the Debenham Robot Rumble 2000, where it was armed with the drum weapon at the front. However, it lost its only battle against Henry 2.
For fun, the deactivated Judge Mech was taken to a live event at Oundle Mill in 2001 to be destroyed, and was damaged beyond repair mostly by Draven, Dominator 2, The Executioner and Shredder.
Wins/Losses
Edit
Ad blocker interference detected!
Wikia is a free-to-use site that makes money from advertising. We have a modified experience for viewers using ad blockers

Wikia is not accessible if you've made further modifications. Remove the custom ad blocker rule(s) and the page will load as expected.