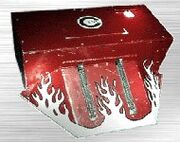 Northern Fury was a Canadian robot that competed in Season 2.0 of Robotica. It was a box shaped robot with a front plough and a pair of belts. It was built from very cheap, borrowed, or recycled material. The frame was created from garage door opener support brackets, the armor was scrap 1/4" aluminum, and the batteries were from surplus uninterruptable power supplies. It lost to Thor in the Preliminary Stages and even scored minus 5 points in the Labyrinth.
Series
Event
Opponent
Round
Results
Robotica Season 2.0
Heat
Thor
Gauntlet
Lost

(45 Points)

Labyrinth
Lost

(-5 Points)
Wins/Losses
Edit
Wins: 0
Losses: 2
Total Points: 40
Ad blocker interference detected!
Wikia is a free-to-use site that makes money from advertising. We have a modified experience for viewers using ad blockers

Wikia is not accessible if you've made further modifications. Remove the custom ad blocker rule(s) and the page will load as expected.