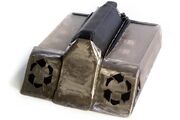 Recycler was a lightweight robot which competed in Season 3.0 of BattleBots. It was a wedge shaped robot which was armed with a lifting arm. It performed decently in competition before losing to Whirligig in the round of 64.
Recycler attempted to return for Season 5.0 with upgraded armor and a flipping arm that could lift 800 pounds. However, due to technical issues causing the flipper to misfire, it failed its safety tests and was unable to compete.
Robot History
Edit
Recycler was scheduled to fight Claymore in the first round, but Claymore had technical issues so it was forced to forfeit. This put Recycler to the final preliminary round, where it was pitted up against Brain Mold. Recycler won on a 34-11 decision and advanced to the taped rounds against Whirligig.
Recycler was able to push Whirligig into the killsaws at one point in the match, but Whirligig slammed into Recycler several times throughout the match, denting Recycler, and eventually causing Recycler to stop working.
Wins/Losses
Edit
Ad blocker interference detected!
Wikia is a free-to-use site that makes money from advertising. We have a modified experience for viewers using ad blockers

Wikia is not accessible if you've made further modifications. Remove the custom ad blocker rule(s) and the page will load as expected.