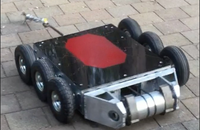 Redback
is an Australian robot built by Team Redback from Brisbane. It's a low-profile box-shaped robot with a Six-Wheel drive and armed with a vertical cutter at the front that weighs 110kg. It also has an removable spike that can be reattached to the rear.
Battle of the Robots 2016 (International Event)
Edit
Redback competed in the International Battle of the Robots event hosted in Russia representing Australia (with four wheels instead of six). Its first battle it fought Punisher from Russia and Zelzal from Iran. It got the first hit on Zelzal scraping its side and also landed another hit on its rear corner, but it didn't go through the Iranian robot's armour. Its oponnent retaliated by ripping off one of Redback's wheels and ripping the tire off one of the front wheels. Despite the damage, Redback continued to fight on and chased Zelzal around the arena, Redback's drum also had stopped at this point. Punisher who had done nothing throughout the battle but just managed to catch up on point scoring and Redback stopped moving just before the last 10 seconds of the fight and lost the judges decision.