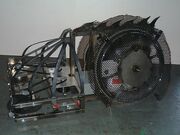 Rippa Raptor was a robot from the first season of Robot Wars: Extreme Warriors entered by Team Raptor. It had an array of spinners, and was well controlled, but had little armour, which allowed Dead Metal to immobilize it in the first round of the US Championship. However, it did finish as runner-up in the annihilator. The team also entered with Cyclone and drove the loanerbot Tut Tut.
Robot History
Edit
In Round One of the US Championship, the Raptor was part of a six-way melee. It started by driving into the wall, allowing Manta to push it into Dead Metal. Dead Metal produced some brilliant sparks. Dead Metal was cautioned by Refbot, but Rippa Raptor was barely moving. Manta won this battle.
Rippa Raptor was also involved in the annihilator. In Round One, it started by pushing Conquering Clown, and being pushed by Red Virus in return. Red Virus pushed Rippa Raptor into Sir Killalot's CPZ, but Rippa Raptor escaped. There was a pile-up involving five of the robots in Matilda's CPZ. The six then pushed each other around the arena, and Unibite ripped off part of Rippa Raptor's wheel guard. However, Skullmania had eventually become immobile. In Round Two, Rippa Raptor added aluminum plates to replace the wheel guards that had been damaged in the last round. Conquering Clown pushed Red Virus into Unibite who attacked Rippa Raptor. All five robots encircled each other, and Unibite broke down and was eliminated. In Round Three, Rippa Raptor tried to attack Drillzilla, who then pushed the clown around the arena, immobilizing it on the flames. In the last three, Rippa Raptor was pushed by Red Virus, but Drillzilla pushed them both into Dead Metal. The two robots were separated by Refbot, but both lost drive on one side. Drillzilla pushed the Red Virus into the house robots and then Red Virus was counted out on the floor flipper. Rippa Raptor was in the final, against Drillzilla, who pushed it straight into the wall, and then into Sergeant Bash. Rippa Raptor stopped moving, and was placed on the flames, and then the floor flipper.
Wins/Losses
Edit
Ad blocker interference detected!
Wikia is a free-to-use site that makes money from advertising. We have a modified experience for viewers using ad blockers

Wikia is not accessible if you've made further modifications. Remove the custom ad blocker rule(s) and the page will load as expected.