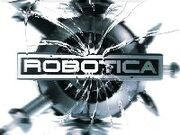 Robotica is a robot combat show (similar to the early seasons of Robot Wars) produced for the American television cable channel TLC, a subsidiary of the Discovery Channel. Three seasons of Robotica were produced. The shows first aired in April 2001, with the final season beginning in late 2002. Show hosts for the first season were Ahmet Zappa, Tanika Ray, and Tanya Memme. For the second and third seasons, Dan Danknick replaced Tanika Ray.
Each preliminary show in the first season of Robotica featured four robots weighing as much as 210 pounds paired off in a series of three challenges. The winners of each pairing faced each other in a Robot-sumo style "Fight to the Finish" to determine the winner of the show. However by Series 2/3 it changed slightly. This time, Robots started together in a motorized rotating turntable, where combat was encouraged. A robot could be penalized the entire point total for an obstacle if they broke down or got stuck in a position that blocked access to the obstacle.
At the end of three minutes, or when all the obstacles were cleared, the exit opened. The final glass strip on the far side of the exit was worth 30 points. This challenge had 150 total points available and a four-minute time limit.
The winning pair of robots faced each other in The Fight to The Finish. The platform was enlarged from season 1; it was now a 25' by 25' elevated platform. A new rule called for robots to hold the other robot 'pinned' for no more than 15 seconds before release. A low guard rail surrounded the platform for the first minute, then fell away. The last robot on the platform moved on to the finals.
For the finals, three pairs of robots competed in The Gauntlet. The two robots with the lowest scores were eliminated, and the remaining four robots paired off for The Labyrinth. The two winning robots met in The Fight to The Finish to determine the champion.
Champions
Edit