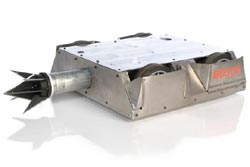 Scheduled for Destruction was a middleweight robot that competed at Season 3.0 of BattleBots. Its weapon was a pneumatic punch weapon made out of a schedule 40 pipe, which is where the robot's name came from. Scheduled for Destruction lost in the preliminary bouts of Season 3.0 and never made it to television.
After Season 3.0, Scheduled for Destruction was retired and disassembled. Some of its parts made it into the team's lightweight creation, Rama Lama Ding Bot, which did worse.
The robot's name comes from its weapon, a Schedule 40 pipe.
Robot History
Edit
Scheduled for Destruction's first ever match in BattleBots was against El Cucuy. The two robots collided and Scheduled for Destruction fired its punch, but it glanced harmlessly off of El Cucuy's armor. After a couple more glancing blows, Scheduled for Destruction pushed El Cucuy onto the entrance ramp, high-centering it. Scheduled for Destruction took the knockout at 1:41 and advanced to the next preliminary round, where it faced Double Agent.
This was a close fight, with Double Agent getting underneath Scheduled for Destruction, but it struck back with its punch. Both robots lasted the three minutes, but Double Agent won on a close 24-21 judge's decision. This meant that Scheduled for Destruction was eliminated from the tournament.
Series
Event
Round
Opponent(s)
Results
Comedy Central BattleBots Season 3.0
Middleweight

Division

Round of 256
El Cucuy
Won
Round of 128
Double Agent
Lost
Wins/Losses
Edit
Ad blocker interference detected!
Wikia is a free-to-use site that makes money from advertising. We have a modified experience for viewers using ad blockers

Wikia is not accessible if you've made further modifications. Remove the custom ad blocker rule(s) and the page will load as expected.