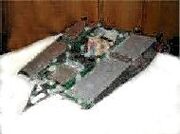 Skewer Rat was a robot that competed in Season 2.0 of Robotica. It was described as a wicked low wedge with a sharp lance weapon. However such a design meant there were doubts, notably from Team Run Amok, over how it would perform in the Labyrinth. These doubts were proved right as it failed to score in the Labyrinth and only scored 40 points in the Gauntlet meaning it lost both Preliminary Stages to Metalmorphis. Its name was a pun on sewer rat.
Season
Round
Event
Opponent
Points
Result
2
Heat
Gaunlet
Metalmorphis
40
Lost
Labyrinth
Metalmorphis
0
Lost
Wins/losses
Edit
Wins: 0
Losses: 2
Total points: 40
Ad blocker interference detected!
Wikia is a free-to-use site that makes money from advertising. We have a modified experience for viewers using ad blockers

Wikia is not accessible if you've made further modifications. Remove the custom ad blocker rule(s) and the page will load as expected.