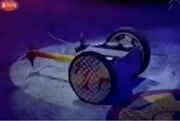 Slamtilt was an invertible box shaped robot with large tyres. Its weapon was a spiked mace attached to a long arm, meaning that it would attack opponents by spinning or swing the mace in a similar fashion to UK Grand Finalist Stinger. This machine wasn't nearly as successful, crashing out in the first round of Dutch Robot Wars: Series 2 in its only battle against Twisted Metal Evo.
Robot History
Edit
Slamtilt faced Twisted Metal Evo in the first round. Initially, the two robots exchanged light blows, neither causing any real damage. Slamtilt was almost hit by Mr. Psycho but escaped, only to take a full on strike from Twisted Metal Evo's disc, buckling one of Slamtilt's highly exposed wheels. Despite this, Slamtilt was the much quicker to escape Growler's CPZ. This didn't matter in the end though, as Twisted Metal Evo was released by the house robot and struck the wheel of Slamtilt that wasn't already buckled and tore it off. Slamtilt still desperately tried to move on the remaining wheel, but it was immobilised and subject to attacks from Mr. Psycho, Growler and the drop zone until Slamtilt's front panels came off.
Series
Event
Round
Opponent(s)
Results
Dutch Robot Wars

Series 2

Heat C
Eliminator
Twisted Metal Evo
Lost
Wins/Losses
Edit
Ad blocker interference detected!
Wikia is a free-to-use site that makes money from advertising. We have a modified experience for viewers using ad blockers

Wikia is not accessible if you've made further modifications. Remove the custom ad blocker rule(s) and the page will load as expected.