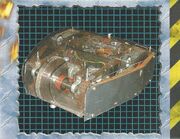 Small Torque was Team Torque's entry for Series 4 of Robot Wars. It was similar to the original All Torque, with a grinding cutting disc instead of sharp teeth, and armoured in bulletproof plastic. The disc worked as a wheel so that Small Torque could drive upside down at 20mph. The robot also had a cooling device inside its shell, which continually pumped CO2 through the machine to hopefully extinguish fires, which had cost All Torque in the previous wars. However, due to a fault the team had to remove this device after their first battle, and in the following battle Small Torque's motors burnt out.
Its name was a pun on the phrase small talk.
Robot History
Edit
At the start of its first battle Small Torque was slow of the mark as Centurion quickly tried to flip Splinter. Small Torque then drove into Splinter, sending its opponent on top of its disc. Splinter then grabbed Small Torque with its claws and pushed Small Torque around and eventually into Shunt. Meanwhile Centurion had stopped moving and was eventually pitted by Sir Killalot, putting Splinter and Small Torque through to the second round.
Its next battle was against Eric, where both robots circled each other for a bit until Small Torque pushed Eric over a flame jet, but this didn't seem to phase it. More circling ensued and then Small Torque reversed into Sergeant Bash, but it managed to escape. Eric then managed to flip Small Torque over so that Small Torque was now using its spinning disc as a wheel. However Small Torque then stopped and smoke poured out. Small Torque then caught fire and was eliminated.
Series
Event
Round
Opponent(s)
Results
UK Robot Wars Series 4
Heat I
Eliminator
(31) Centurion,

Splinter

Qualified
Semi-Final
Eric
Lost
Wins/Losses
Edit
Ad blocker interference detected!
Wikia is a free-to-use site that makes money from advertising. We have a modified experience for viewers using ad blockers

Wikia is not accessible if you've made further modifications. Remove the custom ad blocker rule(s) and the page will load as expected.