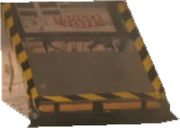 Tanglefoot was a robot which competed in Roaming Robots events in 2007. It was a wedge shaped robot armed with a lifting scoop. It never appeared again afterwards.
Robot History
Edit
It entered the 2007 UK Heavyweight Championships where it lost in the group stages loosing to Tiberius 4 and Beast.
It continued to compete in live events in 2007 and after the season ended Tanglefoot retired.
Wins/losses
Edit
Wins: 0 (?)
Losses: 1 (?)
Ad blocker interference detected!
Wikia is a free-to-use site that makes money from advertising. We have a modified experience for viewers using ad blockers

Wikia is not accessible if you've made further modifications. Remove the custom ad blocker rule(s) and the page will load as expected.