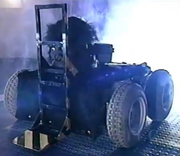 The Killa Gorilla was a robot that competed in Season 2.0 of Robotica. It was a four-wheeled box-shaped robot with an electrically-powered lifting arm that had a gorilla mask perched on top of it, hence the name. It beat Tetanus in the Preliminary Stages then beat Zero in the Fight to the Finish, advancing to the Final where it lost to Deb Bot in the Gauntlet Stage.
The Killa Gorilla also competed in Seasons 4.0 and 5.0 of BattleBots as Silverback, where it was appropriately silver as opposed to being covered in black material like it was for its Robotica guise.
Season
Heat
Opponent
Trial
Points
Results
Season 2.0
Heat
Tetanus

Tetanus

Gauntlet

Labyrinth

Fight to the Finish

65

100

N/A

Lost

won

Won

Final
Deb Bot
Gauntlet
55
Lost
Wins/Losses
Edit
Wins: 2
Losses: 2
Total Points:210
Ad blocker interference detected!
Wikia is a free-to-use site that makes money from advertising. We have a modified experience for viewers using ad blockers

Wikia is not accessible if you've made further modifications. Remove the custom ad blocker rule(s) and the page will load as expected.