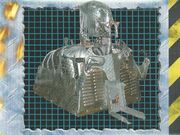 The Predator competed in Series 4 of Robot Wars. It had lifting forks at the front with an axe weapon on its back and showed a vague resemblance to Sir Killalot.
The robot was based on the character from The Predator films. It had dreadlocks from beaded curtains and knitting needle teeth on a head from a wok, which moved through controls, similar to Beast of Bodmin's animated eyes. The chassis was made from a police van and the armour was aluminium covered teflon. It was knocked out in its first round, being smashed by Hypno-Disc.
The Predator was redesigned for Series 5, with the top being more rounded and the head being moved to the middle of the body. The forklift was turned into a wedge, and the paintjob was given a greenish look, to resemble the film character further. However, the team failed to qualify.
The team previously entered Series 3 with the equally unsuccesful Crippler.
Robot History
Edit
The Predator did very little in its first and only battle. It and Raizer Blade were completely overshadowed by Hypno-Disc, and wasn't even acknowledged for having entered previously. The Predator moved into the battle, and Hypno-Disc proceeded to shred the rear armour repeatedly. Hypno-Disc hit Raizer Blade, before striking The Predator again and causing a battery to fall out. Neither The Predator nor Raizer Blade was moving at the end, but The Predator was eliminated because it had sustained much more damage.
Series
Event
Round
Opponent(s)
Results
UK Robot Wars Series 4
Heat P
Eliminator
(2) Hypno-Disc,

Raizer Blade

Eliminated
Wins/Losses
Edit
Ad blocker interference detected!
Wikia is a free-to-use site that makes money from advertising. We have a modified experience for viewers using ad blockers

Wikia is not accessible if you've made further modifications. Remove the custom ad blocker rule(s) and the page will load as expected.