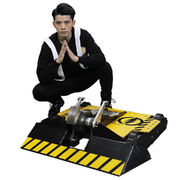 Thunder Hurricane
(Simplified Chinese 雷霆飓风) is a Heavyweight robot from China that contested the inaugural 
King of Bots
competition. It was an invertible, yellow, four-wheeled, box-shaped robot armed with a vertical spinning bar.
Robot History
Edit
King of Bots Season 1.0
Edit
Thunderstorm's first match was against Burning Twin Star, this match began with Thunderstorm's weapon failing to spin. With its weapon gone from the very start, Thunderstorm isolated the two clusterbots, and slammed them all around the arena until time ran out, and won the resulting judges decision putting it through to the Round of 24.
In the next round, Thunderstorm faced Blue. Thunderstorm entered the arena without its front wedge for this fight (reportedly, the builder had planned to add extra top armor with the saved weight, but the new top armor was overweight and he lacked the time to re-attache the front wedge). Thunderstorm's weapon was working, but it seemed to be having issues with its batteries, as it couldn't spin up and drive at the same time. Eventually Thunderstorm stopped working and was counted out, giving the win to Blue. Thunderstorm was unfortunately not selected for a wildcard and was eliminated from the tournament.
Wins/Losses
Edit
Series
Episode
Opponent(s)
Round
Results
King of Bots Season 1.0
Episode 2
Burning Twin Star
Round of 48
Won
Episode 4
Blue
Round of 24
Lost