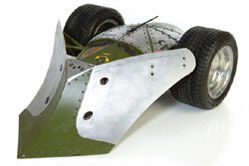 Torquemada was a superheavyweight robot built by Wade Nachtigall, Creighton Nachtigall, and their team Warhippies. It competed in Season 4.0 of BattleBots, and it was a green and silver two-wheeled robot armed with a triangular plow. It had no success in competition, losing its only match against Pharmapac.
Robot History
Edit
The fight against Pharmapac was mainly a pushing match. Pharmapac had the advantage; its wedge and lifting arm got under Torquemada's plow easily. Pharmapac got several lifts and eventually, flipped over Torquemada. Torquemada ran inverted, but there was nothing Torquemada could really do now, so it ran around avoiding Pharmapac, who was losing a lot of mobility towards the end of the match, but still won a 28-17 decsion.
Wins/Losses
Edit
Ad blocker interference detected!
Wikia is a free-to-use site that makes money from advertising. We have a modified experience for viewers using ad blockers

Wikia is not accessible if you've made further modifications. Remove the custom ad blocker rule(s) and the page will load as expected.