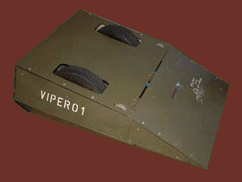 V.I.P.E.R. 01 (standing for Virtually Indestructible Perfectly Engineered Robot and also spelt as Viper 01) was a competitor robot that fought in Series 5 of Robot Wars. It lost its only battle against Splinter in the first round of its heat.
Liverdyne Robotics also competed in middleweight Robot Wars events with Hard Cheese, which won the Series 2 Middleweight Championship.
Robot History
Edit
V.I.P.E.R. 01 participated in Heat I of Series 5, facing the seventeenth seed Splinter in the first round. It started sluggishly as a result of its battery modifications, trying to back away from Splinter but getting caught by the latter's claws and sustaining blows from its axe. Splinter pushed V.I.P.E.R. 01 into Shunt, who axed it and pushed both machines out of his CPZ, before axing it a few more times and reversing away. It rammed V.I.P.E.R. 01 and pushed it into Shunt again, with V.I.P.E.R. 01 showing very little mobility. Shunt pushed V.I.P.E.R. 01 away from Splinter, again axing its top armour, as Splinter pressed the pit release button before pushing V.I.P.E.R. 01 into the CPZ a third time. There, it sustained more damage from Shunt as he and Dead Metal positioned it over the Flame Pit, with Splinter coming in to attack V.I.P.E.R. 01 again as the battle drew to a close. Despite lasting to the end, the judges' decision inevitably went against V.I.P.E.R. 01, eliminating it from the Fifth Wars.
Wins/Losses
Edit
Ad blocker interference detected!
Wikia is a free-to-use site that makes money from advertising. We have a modified experience for viewers using ad blockers

Wikia is not accessible if you've made further modifications. Remove the custom ad blocker rule(s) and the page will load as expected.