Weird mAlice (also known as Weird Alice 2) is a green and black box chassis shaped robot that had failed to qualify for the TV show with Weird Alice. The team have also entered a feather-weight called Dinah.
The team attempted to qualify for the forth wars of Robot Wars. The original Weird Alice was an invertible, triangular wedge shaped robot armed with a CO2 powered spike.However before their qualifier battle could begin they suffered radio reception issues that meant they had to pull out and ended up failing to qualify for the wars.
Robot History
Edit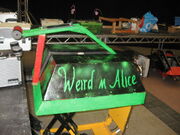 The original Weird Alice was scrapped soon after this and a new box shaped version of Weird Alice with sloped sides and armed with a flipper was built. The robot was later remade with steeper sides and it was later renamed Weird mAlice which appeared in the 2006 UK Championships . During live events Weird mAlice has been noted for being quite weak when using its flipper and has broken down a few times in the past which has lead to the robot being an easy target for other competitors. Weird mAlice appeared in almost all the UK Championships however it has never gone beyond the heat. It is also one of the most common robots to appear, others being Ripper, Thor, Manta and The Saint.
In 2016, Weird mAlice was given some upgrades and a new paint job. In its first Live Event battle it managed to win after flipping both Toxic 2 and Bigger Brother out of the arena.
Robots Live! - Burgess-Hill 2010 Winner
Robots Live! - Team Champions 2010 with Team Tilly All-Stars
Robots Live! - Team Championships 2011 Runners-up with Team Tilly All-Stars
Robot Wars - Guildford 2013 Finalist
Ad blocker interference detected!
Wikia is a free-to-use site that makes money from advertising. We have a modified experience for viewers using ad blockers

Wikia is not accessible if you've made further modifications. Remove the custom ad blocker rule(s) and the page will load as expected.